Kewenangan Presiden Membentuk Undang-Undang Dalam Sistem Presidensial
Authority of The President to Form Laws in The Presidential System
Eka N A M Sihombing

Fakultas Hukum, Universitas Muhammadiyah Sumatera Utara, Indonesia.

Cynthia Hadita

Program Doktor (S3) Ilmu Hukum, Universitas Sumatera Utara, Indonesia.
Keywords:
Legislasi, Kewenangan, Presiden
Abstract
Kewenangan Presiden dalam membentuk undang-undang pasca amandemen yaitu bahwa Presiden masih memiliki hak dalam pembentukan undang-undang hal itu terjadi atas implikasi pergeseran fungsi legislasi sebelum dan sesudah amandemen, saat ini Presiden yang berhak mengajukan Rancangan Undang-Undang, DPR memegang kekuasaan membentuk undang-undang. Dalam penelitian ini juga dilakukan perbandingan dengan negara-negara di Amerika Latin dan Brazil untuk menemukan indikator kewenangan presiden membentuk undang-undang dalam sistem presidensial, agar proporsinya lebih ideal. Metode penelitian yang digunakan yaitu yuridis normatif. Hasil penelitian menunjukkan bahwa dibutuhkannya penyerahan kekuasaan legislasi sepenuhnya kepada DPR dan DPD serta perlu mempertimbangkan pranata Veto.
Downloads
Download data is not yet available.
References
N. Huda, Presiden & Pembantu Presiden dalam Sistem Ketatanegaraan Indonesia. Yogyakarta: FH UII Press, 2019.
Republik Indonesia, Undang-Undang Dasar Negara Republik Indonesia 1945.
A. Wiyanto, "Kekuasaan Membentuk Undang-Undang Dalam Sistem Pemerintahan Presidensial Setelah Perubahan Undang-Undang Dasar 1945," Negara Hukum, vol. 6, no. 2, pp. 1–19, 2015, doi: https://doi.org/10.22212/jnh.v6i2.251.
E. N. A. M. Sihombing, "Menata Relasi Dewan Perwakilan Daerah Dan Kementerian Dalam Negeri Dalam Pengawasan Peraturan Daerah," Reformasi Hukum, vol. 23, no. 2, 2019, doi: https://doi.org/10.46257/jrh.v23i2.94.
P. M. Marzuki, Penelitian Hukum. Jakarta: Kencana, 2011.
M. Kusnardi and H. Ibrahim, Pengantar Hukum Tata Negara Indonesia. Jakarta: Pusat Studi Tata Negara, Fakultas hukum Universitas Indonesia, 1981.
S. Soemantri, Hukum Tata Negara Indonesia. Jakarta: Rosda, 2014.
N. Sinamo, Hukum Tata Negara: Suatu Kajian Kritis tentang Kelembagaan Negara. Jakarta: Jala Permata Aksara, 2010.
N. Huda, Hukum Tata Negara Indonesia. Jakarta: Rajagrafindo Persada, 2006.
A. Farida, "Rekonstruksi Kewenangan Presiden Dalam Pembentukan Undang-Undang Sebagai Upaya Penguatan Sistem Presidensial Indonesia," Jurnal Legislasi Indonesia, vol. 18, no. 2, pp. 153–167, 2021, doi: https://doi.org/10.54629/jli.v18i2.719.
Republik Indonesia, Undang-Undang No. 12 Tahun 2011 tentang Pembentukan Peraturan Perundang-Undangan.
M. I. F. Putuhena, "Constitutionality of Mechanism Approval Goverment Regulation Replacement Act In Law Number 12 of 2011 Concerning The Formation of Laws and Regulations," NOMOI Law Review, vol. 1, no. 1, pp. 78–88, 2020, doi: https://doi.org/10.30596/nomoi.v1i1.4648.
M. Yasin Al-Arif, "Anomali Sistem Pemerintahan Presidensial Pasca Amandemen UUD 1945," Jurnal Hukum IUS QUIA IUSTUM, vol. 22, no. 2, pp. 238–254, 2015, doi: https://doi.org/10.20885/iustum.vol22.iss2.art4.
S. M. Saiegh, "The Role of Legislatures in the Policymaking Process," Workshop on State Reform, Public Policies and Policymaking Processes, no. MARCH 2005, pp. 1–34, 2005.
R. E. Barkow, "Insulating Agencies: Avoiding Capture Through Institutional Design," Texas Law Review, vol. 89, 2010, [Online]. Available: https://papers.ssrn.com/sol3/papers.cfm?abstract_id=1717037
P. R. Verkuil, "The Status of Independent Agencies After Bowsher v. Synar, 1986 Duke L.J. 779, 797 n.100 (noting that the Humphrey's Executor standard "could be construed so as to encompass a general charge of maladministration, in which event even if the terms of remova," Duke Law Journal, no. 5, pp. 779–805, 1986, doi: https://doi.org/10.2307/1372668.
J. Ellig and M. Horney, "Statutory delegation, agency authority, and the asymmetry of impact analysis," Theory and Practice of Legislation, vol. 7, no. 3, 2020, doi: https://doi.org/10.1080/20508840.2020.1730097.
C. R. Sunstein and A. Vermeule, "Presidential Review: The President's Statutory Authority over Independent Agencies," The Georgetown Law Journal, vol. 109, no. 3, 2021, [Online]. Available: https://www.law.georgetown.edu/georgetown-law-journal/in-print/volume-109/volume-109-issue-3-february-2021/presidential-review-the-presidents-statutory-authority-over-independent-agencies/
E. Man and A. Wiener, "'Duty to Delegate' in Designing Regulatory Legislation," The Theory and Practice of Legislation, vol. 7, no. 3, 2020.
B. Manan, Dasar-Dasar Perundang-Undangan Indonesia. Jakarta: Ind-Hill-Co, 1992.
B. Manan, Lembaga Kepresidenan. Yogyakarta: Pusat Studi Hukum Universitas Islam Indonesia dan PT. Gama Media, 1999.
G. W. Cox, "'The Organization of Democratic Legislatures' in Donald A. Wittman and Barry R. Weingast (eds)," in The Oxford Handbook of Political Economy, England: Oxford University Press, 2005.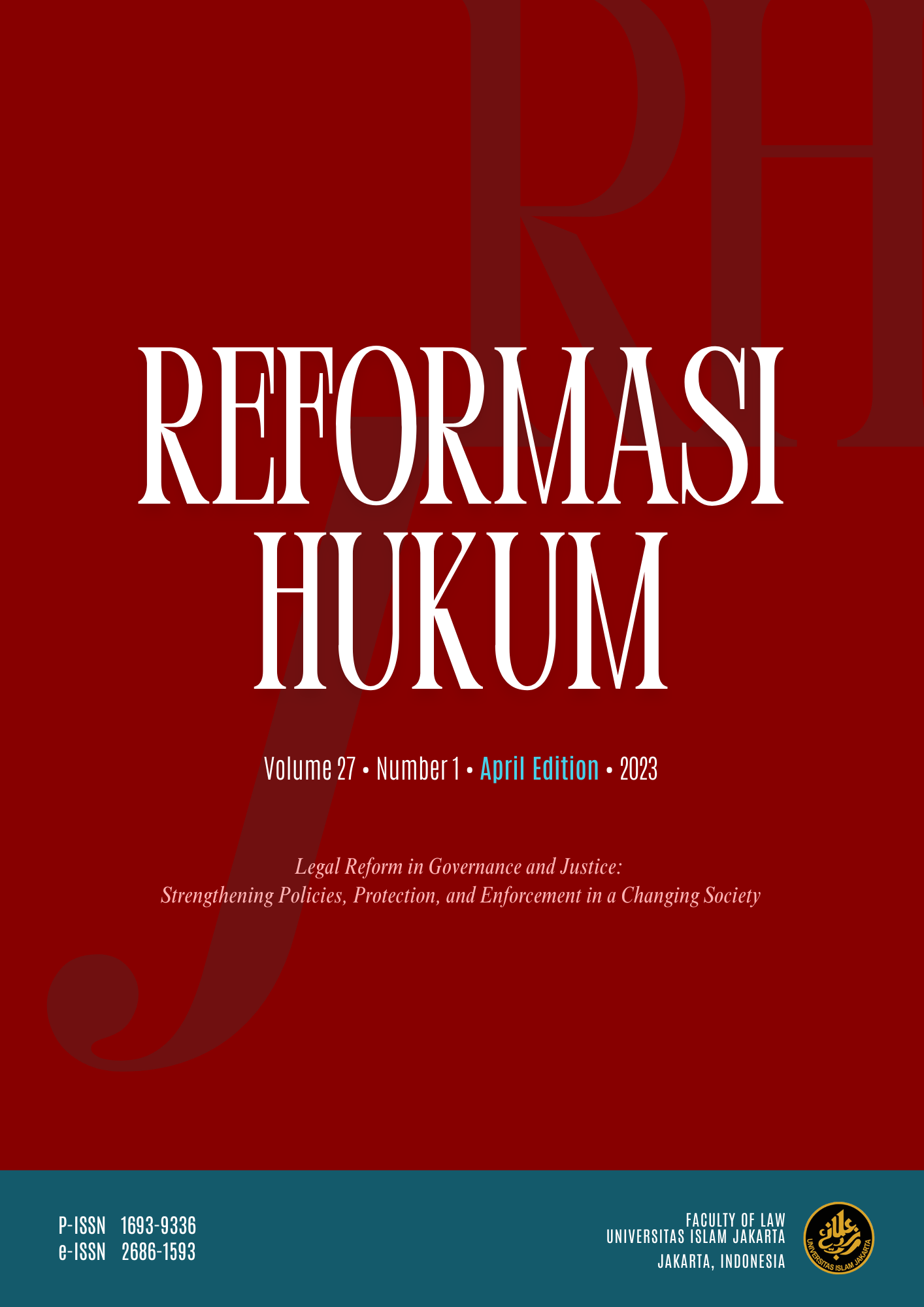 How to Cite
Sihombing, E. N. A. M., & Hadita, C. (2023). Kewenangan Presiden Membentuk Undang-Undang Dalam Sistem Presidensial . Reformasi Hukum, 27(1), 14-24. https://doi.org/10.46257/jrh.v27i1.491